Happy New Year! I have been so busy with work that I have not posted on here since before christmas :( I have been doing my management training so it has been a bit hectic and up in the air as to where I was going to be placed but that is now over and I have been offered a management position Near Chester, so I am looking forward to starting that :) So hopefully now I can focus more of my free time on blogging. Anyway lets get started. This is what I have been loving this month...

I will start with nail varnishes I picked up 1 from Nails inc and 3 from Barry M in December. I have loved wearing the glittery ones over the holiday season and I am now loving Almond for spring, Almond also works as a really nice base to wear Pink Quartz over the top of or you could wear Almond and have pink quartz as an accent nail.
The Nails inc 'Sequin' is from Alexa Chung's range and I like to layer it up so it looks like it does in the bottle or you could wear a black base and wear a layer of this over the top.
I have heard a lot of bloggers and you tubers talk about the Emma Hardie Cleansing Balm to I bought this one to replace my Clinique cleansing Balm. I use it before I go to bed and rub it in to a full face of make up then wipe it off with the cloth that comes with it and It is amazing it takes everything off even heavy eye make up and mascara (which I wear quite a lot!)
Emma Hardie Cleansing Balm
I have bought a few perfumes lately as I like to have a few options for different occasions. I really like quite heavy scents and long lasting perfumes which is why I always have Chanel, but I saw this in the sale and had to get it. I absolutely love this fragrance I used to wear it when I was about 15/16 haha so it is a bit nostalgic, and I love the sailor packaging of this one too.
Jean Paul Gaultier - 'Classique'
I really liked the first set of brushes that Real Techniques brought out so when I heard about their new bold metals range I had to try them out. I bought this blush brush and the power brush and they are both lovely - really soft and work well, this blush brush however is just what I have been looking for. I really wanted a blush brush that was a bit smaller and more precise so this is perfect.
Real Techniques Blush brush 300 from the Bold Metals collection
I have a slight obsession with Monica Vinader - I love pretty much everything she does. If you
haven't heard of her she is a British designer who makes beautiful jewellery in sterling silver, yellow gold and rose gold and uses precious and semi precious gemstones. She makes a lot of stacking pieces so you can mix and match a few different pieces together. I got the Baja ring for christmas, and I bought the Atlantis ring and the Siren ring on Black friday for half price!
Monica Vinader - Baja ring - Gold and Green Onyx
Monica Vinader - Atlantis ring - Gold and Lapis
Monica Vinader - Siren ring - Gold and Moonstone
I have
wanted
some
vans for ages, I love the look of them and I wanted some casual comfortable shoes instead of wearing ankle boots all the time. But because I have big feet (size 8) I always just avoid flats and opt for
something
with a
bit of a heel like my boots, but I actually think these vans are quite a flattering fit,
they come down a bit lower at the front so you can see more of the foot which slightly elongates the leg.
Food favourites this month - Greek Yoghurt with honey and granola. My favourite has been M&S four nut and flame raisin granola and the M&S Greek yoghurt with honey or Rachel's organic greek yoghurt with honey.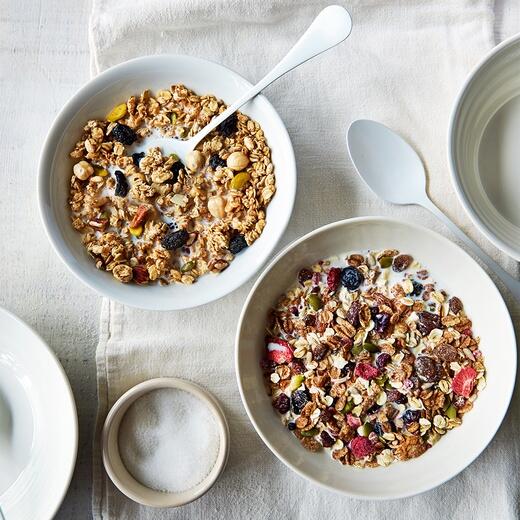 Marks and Spencer Four Nut and Flame Raisin granola
I have been listening to a lot of music this month I have been loving Sia's chandelier and Elastic heart but my favourite song this month is a mix of The Smiths' 'This Charming Man' and Lana Del Rey's 'Video Games' It is beautiful
The Smiths and Lana Del Rey mix 'This Charming Video Game'
Please let me know what you have been loving this month in the comments below.